Dr Lynch's Family & Life
An Dochtúir Dómhnall Ó Loingsigh was married twice, his first wife was Mary Creedon from Ballymacorcoran, Clondrohid, and his second wife was Ellen Gould from Dingle (pictured below), who was very active in Conradh na Gaeilge.

Dómhnall had four daughters (Catherine (Katty), Julia, Margaret (Gretta), Mary (Moira) – pictured below) and one son (Denis) with his first wife Mary, and one daughter (Johanna) with his second wife Ellen. Both Mary (Moira) and Johanna died young.

Copies of the 1901 and 1911 Census documentation for an Dochtúir Dómhnall Ó Loingsigh and his family can be seen here –
Catherine married Cornelius (Curry) O'Shea who came from the O'Shea Mineral Water Company in Macroom. Curry, who was full-back on the Cork All-Ireland Football team in 1911, went on to become manager of the business following his father John's retirement, however he died unexpectedly died at 47 years of age, after a few days illness in 1929, leaving behind his wife Catherine and 7 young children.
Once again Curry's father took over running the business, and Catherine's eldest daughter, Anna, entered the business to undergo training for management, once she had matriculated at Ursuline Convent, Blackrock, Cork. Anna eventually progressed to the role of manager, having been guided by the late D.C Murphy who was office manager, and no doubt by her grandfather John.
In 1964 Anna's brother Donal became the factory manager, and in 1967 the firm took over the old established Macroom firm of mineral water manufacturers and bottlers, Messers. William Coughlan and Company. It should be noted that Messers. William Coughlan and Company was, prior to its sale in 1967, under the ownership of Margaret Buckley (nee Long), mother of Patricia Buckley who married Jerry Lynch, Riversdale House, Bishopstown, Cork, the family historian for this project, and they are parents of Réidín Lynch, the creator of this website.
Julia was married in Macroom, to Tom O'Leary of New Street, who was a vet. These are the parents of Joan Cronin (nee O'Leary) who is a founding member of the organising committee for the event honouring Joan's grandfather an Dochtúir Dómhnall Ó Loingsigh and the renaming of an 'Ionad Cultúrtha' to 'Ionad Cultúrtha an Dochtúir Ó Loingsigh'.
Gretta married Tom Sheehan and they had a drapers shop in Kanturk. Tom's brother owned Duhallow Knitwear also in Kanturk. On the death of her husband, Gretta moved to Dublin where she worked in the Hospital Sweepstakes in Ballsbridge for many years.
By clicking the following links you can read an article reporting the death of an Dochtúir Ó Loingsigh's first wife Mary in 1895, and the death notice of his second wife Ellen in 1949 –
Dochtúir Ó Loingsigh's only son Denis was a final year medical student in University College Cork when he became ill. One version of events states that he was taken to the Mercy Hospital and put in a ward where there was Typhoid, where he contracted the disease. He died aged 23 years on 22/03/1913, however his death certificate states that he died of TB in St Patrick's Hospital, Wellington Road, Cork.
At a meeting of Macroom Urban Council in March 1913, the death of Denis Lynch was mentioned and a resolution was proposed  and passed by the council to tender their sincere sympathy to Dr Lynch and his daughter Mrs Cornelius O'Shea of Macroom on their recent bereavement, which was reported in the Southern Star newspaper –
The death of his only son broke the heart of an Dochtúir Ó Loingsigh , but he travelled to Portugal from the port of Liverpool (via SS Ambrose on 31st May 1913) to visit his daughter Gretta who was studying languages at the time. It is reported that when Gretta saw him, she said that she knew he did not have long to live.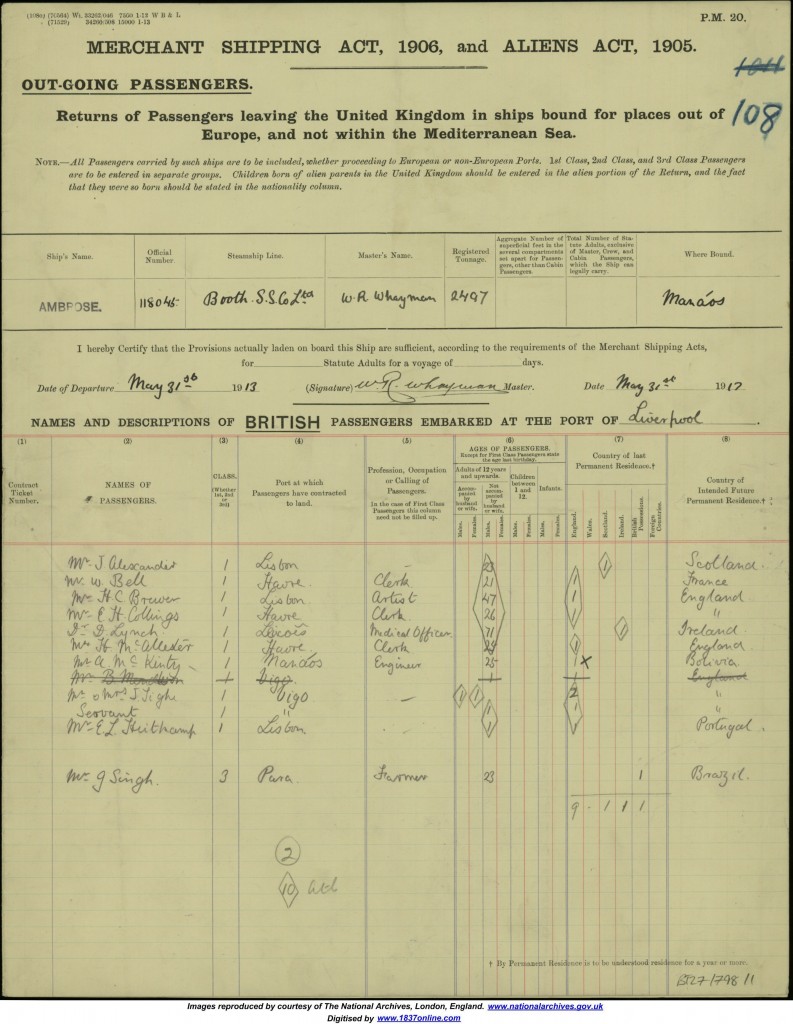 An Dochtúir Ó Loingsigh's health had started failing him when he reached 70 years of age. In the end he was not able to attend to the sick people of parish, but he did not forget them.
He had a horse and covered cart to travel around the parish, as he never had a motor car. When he became ill himself, he sent word to his cousin Denis Lynch, Togher, to take the sick people to the doctor in Macroom. One day he asked Denis to drive a cousin of theirs, Eugene Sean Lynch of Derrynasaggart, to Macroom and if necessary to hospital in Cork – 40 miles from home and Denis had only a horse and coach.
An Dochtúir Ó Loingsigh did not live long after this episode, and he died on 28/11/1913. The following day his death was reported in an article printed in the Freeman's Journal newspaper, however it must be noted that some inaccuracies are now known to exist within this article –
Pastimes and Interests
The doctor was a great man for shooting and hunting. It was on the Derrynasaggart mountains near his home that he did most of his hunting, but it was usual for him to go overbounds back to Cladagh in Co. Kerry with his dog and guns. There was not a great welcome for him there. A letter exists from The O'Donoghue of the Glen threatening law on the doctor if they saw him hunting again on their own preserved grounds in the Glenflesk region. It is known that the local Volunteers used Dochtúir Ó Loingsigh's gun at the Coolnacaheragh Ambush in February 1921.
Dochtúir Ó Loingsigh was always thinking of ways to continue assisting and improving the lives of his patients in the greater Ballyvourney area, and this was evident in his idea to create a nursing home for elderly people and for seriously ill people of the area. It was a great pity that he did not succeed with this aim because if he did Ballyvourney would have been one of the first places in Ireland to have a nursing home. The reason he did not succeed was because the call of death was beckoning him.
As Donal Ó' hÉalaithe summarised in his commentary for Éighse 2008 –
" It is difficult for us today to comprehend how one man could do all of the heroic actions and still attend to his duties as a full time doctor. It is of opinion that the greatest gift he had was that he understood people, and that he was able to sensibly guide and direct them. He stayed young and he stayed in contact with the youth because he cared for them, and his understanding was to be noticed in his speech, his actions and his deeds. He visited the people, he was friendly with them and he put them working. He gave good example to them in every way especially in talking Irish and he taught them to have "meas" (respect) for themselves and for their heritage.
Dr Lynch was a patriotic Irishman who was old fashioned but not ostentatious. He had deep love in his heart for everything Nationalist and Irish, our language, our culture, our games, our traditions, our people and our heritage. He said often that he was angry when he saw the "gombeen" men dissecting our language and our culture. "These people" he said "are only trotting after the swindling and deviousness of the English".
Dr Lynch was an energetic, likeable, decent person that the people of Coolea and Ballyvourney should be very proud of, and his memory is permanently commemorated in this parish. The Dr Lynch Perpetual Trophy is presented each year to the best Sean Nós singer in a competition that is held annually.
It would be very presumptuous of me to state that I have a complete account made of the life and the work of this man here tonight,  because to tell the truth I have only done the outline of his life and his work. Before we finish let us recall once again his great work protecting the culture and economic development of the area.
We understand his life was unusual, active and adventurous from the day he left Coolea National School, his time in the Irish College in Paris, his time in the Regiment of St. Patrick in the Pope's Army – The Papal Zouaves, his time in the French Army in the Franco-Prussian War. The hungry, repressive time he spent in the prisoner of war camp in Sedan. The years he spent in America in New Mexico, in the Rockies with the Indian tribes. His return journey to Coolea, his decision to study Medicine in UCC and his return to Ballyvourney as a doctor.
The start of his public life as a Nationalist Leader with Conradh na Gaeilge. His great cultural work in saving the language in Ballyvourney and throughout Muskerry, and without doubt his great effort at employment for the parish. A Knitting Factory in which 20 girls worked, then founding a shop and store as well as a bakery, a Public Hall, beginning Ballyvourney Fair, leasing a cattle boat for exporting from Cork Harbour.
His active part in the Land War, his total commitment to the small farmers of this area, his effort to bring the railway to Ballyvourney. Without doubt we have to emphasise his great nationalist work throughout Ireland during the historical years of the Revival. There is no doubt in my mind that one day we will see a wonderful dramatic film about this extraordinary man and about his active, adventurous life of Dr Lynch R.I.P.
As I said in the beginning of my talk it is seldom that a Nationalist Leader of this quality is born in a Gaeltacht area. A man who was able to give both local and Nationalist Leadership. He proved this over thirty years out of his own resources, without an office, without apprenticeship, without a back-up force, without an adviser, without a car, without a grant, without a penny of public money, not only that but he was willing and prepared to put his hand into his own pocket and spend his own money for the good of his neighbours and Ballyvourney.
The fruits of his cultural work life will live long after him. Would there be any word of Irish in this area today if it were not for him – I'm not certain, but maybe not. He left a richer legacy in Muskerry than is understood. We are proud he lived amongst our people, and for them. A man who did extraordinary work for the parish and for this area during his life.
My final word is that it was the stand and the work of Dr Lynch in these dark years over 100 years ago that laid down the foundation stone of every sort of cultural and economic development that happened in Coolea and Ballyvourney since then and that kept the Gaeltacht here until our times.
Dr Dómhnall was fear dea-gniomhid, dea-sarphlach, dea-mhúinte, dea-nósach, dea-chainteach, dea-ghorlach, dea-chroidheach, dea-aigheanta, dea-chluíthead
A mhuintir na hÉighse, sin é mo chur síos agus mo theastas ar ár gcomhaisan an Dochtúir Dómhnall Ó Loingsigh. 
Ar dheis de go raibh a anam uasal gaelach."
Adapted from Éighse 2008 speech given by Dónal Ó hÉalaithe – Staraí áitiúl de chuid Acadamh Fódhla ó Chúil Aodha, translated into Béarla by James O'Leary, Coláiste an tEasbog Mac Aogháin, Máigh Chromtha; additional information from Jerry Lynch, Riversdale House, Bishopstown.